Proclamation Ceremony Declaring October 2016 as Health Literacy Month
AL-HAC is a proud member of the Health Literacy Partnership of Alabama. In alliance with this organization, members of AL-HAC were able to take part in the Proclamation Ceremony declaring October 2016 as Health Literacy Month. This signing occurred at the Alabama Capitol on September 28, 2016.
Health Literacy Month in the State of Alabama is a time to encourage all citizens to learn more about the importance of health literacy and to become involved with health literacy efforts in their communities. With the rising costs of health care, issues with understanding health information, and other related problems, this month is committed to increasing health literacy of all citizens.
It is important to note that the month of October is also dedicated to Breast Cancer Awareness. Thanks to early detection and improvements in treatment, millions of women are surviving the disease.
We value both of these recognition's in the month of October and, with our mission in mind, yearn to improve the health status of all Alabamians.
Left to right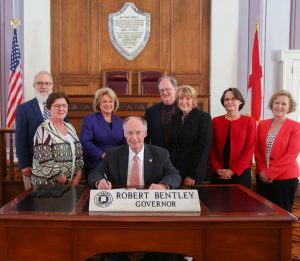 Jim Carnes, Alabama Arise
Kathleen Ladner, Alabama Health Action Coalition
Joy P. Deupree, The University of Alabama at Birmingham
David White, Governor's Office
Patricia Marincic, Auburn University
Robin DeMonia, Direct Communications
Anne Hails, AARP
For further information detailing the proclamation, please visit: http://governor.alabama.gov/newsroom/2016/09/health-literacy-month-2/