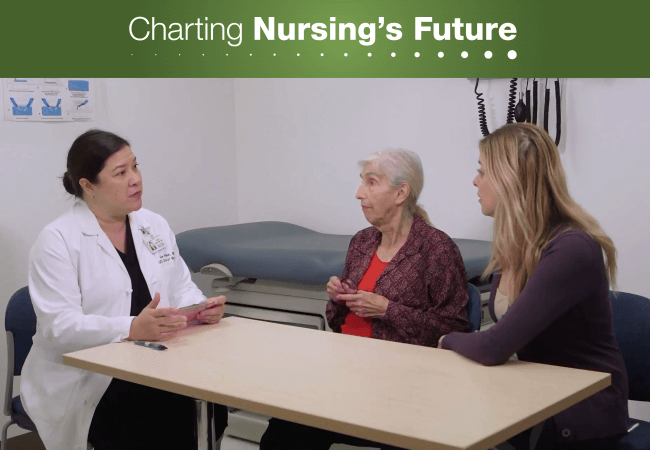 Nurses Engaging Families in Dementia Care
When Leslie Chang Evertson, DNP, was asked in 2011 to help develop the UCLA Alzheimer's and Dementia Care Program (ADC) at UCLA Health, she jumped at the chance, knowing that her training as a nurse practitioner (NP) made her the right person for the job.
"We take a holistic approach," says Evertson. "We look at the medical, behavioral, and social aspects of the patient's situation while also considering the strain on the family and the resources they have available for home care."
UCLA's program aims to reduce caregiver stress while improving patient outcomes and reducing costs. The program consists of three primary elements: an initial 60- to 90-minute in-person visit with the patient and the patient's family, the development of a comprehensive care plan that includes connections to community resources, and, at minimum, annual follow-up appointments.
A recent AARP Public Policy Institute report, Home Alone Revisited: Family Caregivers Providing Complex Chronic Care, shows almost half of caregivers perform nursing or medical tasks for individuals with chronic conditions. The report also indicates many of these caregivers feel overwhelmed by such tasks, which can include medication management and wound care.
The comprehensive care plan and caregiver support provided by the UCLA Alzheimer and Dementia Care Program speaks directly to these findings. At the initial visit, the NP dementia care specialist (DCS) conducts a physical exam and collects a comprehensive geriatric history that includes an in-depth focus on dementia. "We ask questions about living conditions, medications, and behaviors such as refusing to shower or wandering," explains Evertson. "We determine how severe or distressing the behaviors are to the patient and the caregiver, and we assess both of them for depression to help us determine the level of support each might need."
Each care plan addresses some or all of these issues and also creates respite opportunities for caregivers, teaches them about dementia, and helps them plan for end-of-life care. "We know what they're going through," says Evertson, "and we have recommendations for them, or we can connect them with the resources they need in the community."
When the comprehensive care plan is complete, the dementia care specialist shares it with the patient (when possible) and with that person's physician and family. "If needed," explains Evertson, "we may follow up as soon as the next week, or we may not see the patient again until their annual visit where we can monitor progress and modify the plan."
The program requires all participants to be under the care of a UCLA physician, and these providers, Evertson explains, actively coordinate care with the dementia care specialists. "They will often loop us back in when they see something brewing. They know what to expect from us and will often initiate a call and ask for help."
Some 2,600 patients later, UCLA's Alzheimer and Dementia Care Program has been featured in a 2017 National Research Summit on dementia care at the National Institutes of Health and has received an Edge Runner award from the American Academy of Nursing for innovations in care. Outcomes published in JAMA Internal Medicine show success. The program reduced costs to Medicare by $601 per patient, per quarter (enough to offset the cost of program implementation), and reduced nursing home placements by 40 percent. "This is an impressive number," says Evertson, who explains the program aims to enable patients who want to stay in their homes to safely remain there for as long as is possible.
An ongoing study of 2,150 people with dementia and their caregivers will compare the UCLA dementia care specialist model to two other models of dementia care and may reveal additional benefits. In the meantime, UCLA dementia care families rave about the support they've received. "The program has turned my life around," says one caregiver. "I now have a grip on things. I do not feel totally overwhelmed, and I can honestly say [my dementia care specialist] has sort of saved me."
With an eye toward broad dissemination of the program, Evertson and her colleagues have secured funding to provide program materials, training, and mentoring services to other organizations. They have also created a series of 22 education modules related to dementia care for advanced practice nurses and made them available online through the Gerontological Advanced Practice Nurses Association.
While disseminating the program nationally could reduce costs and alleviate the burdens placed on family members caring for this expanding population, Evertson cautions about the challenge of reimbursement. "The current Medicare fee structure doesn't lend itself to support this kind of ongoing intervention," says Evertson. But she sees this as a work in progress, emphasizing that policymakers need to think creatively about how to accommodate cost-saving programs such as the one at UCLA.
"Chronic care management is so important," she says, "and it's bigger than dementia. This is where health care is going."