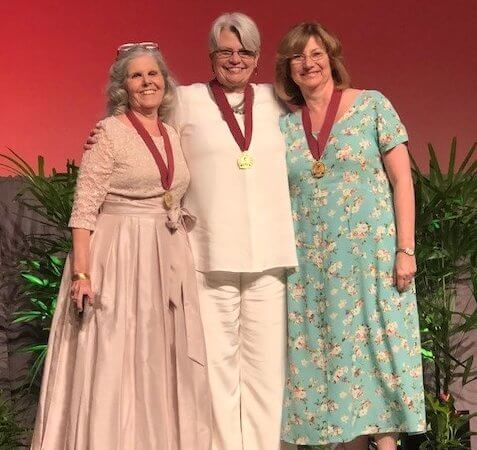 Nurse Practitioners Designate Quinn an Honorary Fellow
For her exceptional leadership in health policy and advocacy on behalf of nursing, the American Association of Nurse Practitioners (AANP) on Thursday inducted as an honorary fellow Winifred V. Quinn, PhD, director of advocacy and consumer affairs at the Center to Champion Nursing in America, a national initiative of AARP Foundation, AARP and the Robert Wood Johnson Foundation.
"I am deeply honored and humbled," Quinn said of receiving the award in Denver at the 2018 FAANP Induction Ceremony that is part of AANP's national conference.
AANP recognized Winifred for her work in removing barriers to care provided by advance practice registered nurses. Winifred leads federal and state advocacy efforts for the Future of Nursing: Campaign for Action, also an initiative of AARP Foundation, AARP and RWJF. Since the Campaign started, 20 states have modernized scope of practice laws for APRNs.
In a press release announcing the award, AANP noted Winifred's contributions of helping consumers and family caregivers understand that removing barriers to APRN-care means better access to health and health care for all.
Winifred accepted the award "on behalf of the entire dedicated team at the Center to Champion Nursing in America. We do this because we know that nurses and nurse practitioners are dedicated to helping people living better lives," she said.
Winifred is an alumna of Union County College and Douglass College, Rutgers University. She received her PhD in health communication from Rutgers University School of Communication and Information. Her public policy and innovations work began as a family caregiver for her parents.