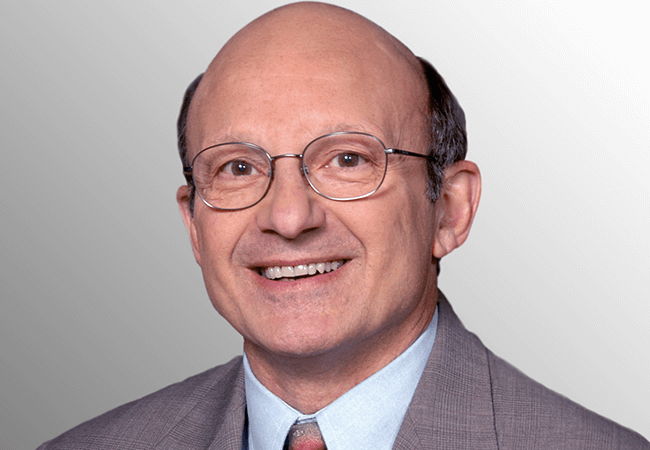 "Nurse Power": He Helped Write the Book. (Yes, That Book.)
Nurses "have the perspective and experience and the toughness to show us the way."
Bill Novelli, MA, is Distinguished Professor of the Practice at Georgetown University's McDonough School of Business. He founded the Georgetown Business for Impact (formerly known as the Global Social Enterprise Initiative) at McDonough and oversees the program, which partners with companies, nonprofits and government to create social, environmental and economic impact.
He served on the Institute of Medicine (now known as the National Academy of Medicine, or NAM) committees on The Future of Nursing: Leading Change, Advancing Health, and also Dying in America: Improving Quality and Honoring Individual Preferences Near the End of Life. He co-chairs the NAM's Care Culture and Decision-Making Innovation Collaborative.
Bill is also the co-chair of the Coalition to Transform Advanced Care, a national alliance dedicated to reforming advanced illness/end of life care in the U.S.
Bill was CEO of AARP from 2002 to 2009. Before that, he was founder and president of the Campaign for Tobacco-Free Kids; executive vice president of CARE, the international relief and development organization; and co-founder and president of Porter Novelli, one of the world's largest public relations firms and now part of Omnicom.
Bill is on the boards of: the American Cancer Society, the Coalition to Transform Advanced Care, the Bipartisan Policy Center's Advocacy Network; the Campaign for Tobacco-Free Kids (chair); Capital Caring; and Strategic Partnerships.
Bill has a BA from the University of Pennsylvania and an MA from Penn's Annenberg School for Communication, and pursued doctoral studies at New York University. He taught marketing management for 10 years in the University of Maryland MBA program also taught health communications there.
Why did you decide to become involved in the nursing profession?
First, I have had a long career in health promotion and disease prevention. My earliest experience was working on the National High Blood Pressure Education Program overseen by the National Heart, Lung, and Blood Institute at the National Institutes of Health. I quickly learned that nurses are an essential part of the health system and of patient education and care. I applied that lesson throughout my subsequent work across many programs and opportunities.
Second, I served on the Future of Nursing committee at the Institute of Medicine (now the National Academy of Medicine), and all I knew about nurses and their roles was positively reinforced.
I call all this Nurse Power and I see it as critical to health and well-being.
Describe the journey you took to get to where you are today.
My personal journey includes business marketing at a worldwide consumer goods company, Unilever; making it at a hot New York ad agency during the Mad Men era; co-founding and building a large international public relations agency (Porter Novelli); running CARE USA in 40 developing countries; fighting and helping to win the war against the tobacco industry (the Campaign for Tobacco-Free Kids); leading the largest nonprofit organization in America (AARP); co-funding a national coalition to reform how advanced illness and end-of-life care is delivered in the U.S. (Coalition to Transform Advanced Care, or C-TAC); and now creating and overseeing Georgetown Business for Impact and teaching in the MBA program at Georgetown University.
So I've gone from being a commercial marketer to a social marketer to a PR maven to a general manager to a teacher.
What impact did the Institute of Medicine's Future of Nursing report have on you?
The report has had a strong impact on me. In serving on the committee that produced the report, I learned more than I contributed. But I already knew the power of nursing. As impressive and important as the report itself, it is the Campaign for Action that is achieving the goal of putting the report recommendations into practice.
How have you been involved with the Campaign for Action?
I've been serving on the Strategic Advisory Committee and wishing I could do and contribute more to the cause.
Of all you have accomplished, what are you most proud of?
In the course of my career, I'm proudest of my AARP work: getting prescription drugs into Medicare; preventing the partial privatization of Social Security; having redistricting in California moved from the legislature to a citizen committee; doubling AARP's budget and adding 5 million new members.
What is the most important action that nurses can take to lead the way to improve health and health care in America?
The conclusions and recommendations from the report clearly state how nurses can contribute more. But in my mind the most important way is for nurses to step up from their traditional roles to provide greater leadership—in the health care system as well as outside. We need nurses on corporate boards, on city councils, as military officers, in elected office and in every other leadership role. Why? Because they have the perspective and experience and the toughness to show us the way.
What advice do you have for the next generation?
I teach MBAs. As I watch them go into the world (we just finished commencement at Georgetown), I go home with a happy heart. They, along with other outstanding graduates, are tomorrow's leaders.
Students sometimes ask me, "What's the path to success?" There is no single path, and our path is what we make it. That journey can be uncertain, maybe risk-taking and hopefully enormously gratifying. So, I tell them, "Make your own path; you have the skills and the talent and commitment to make it unique and successful."