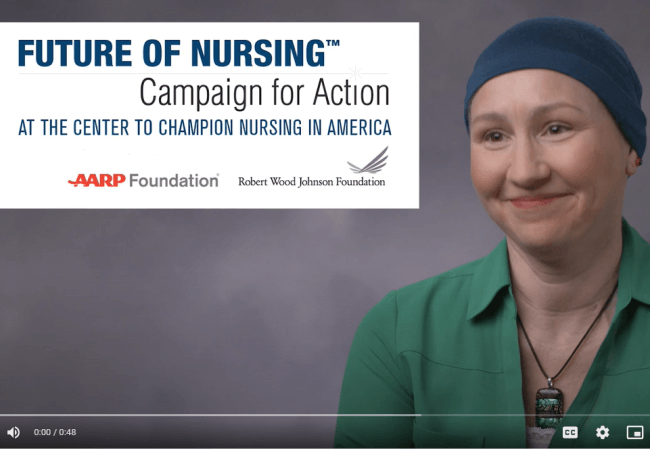 Nine Nurses Talk About Equity-Minded Nursing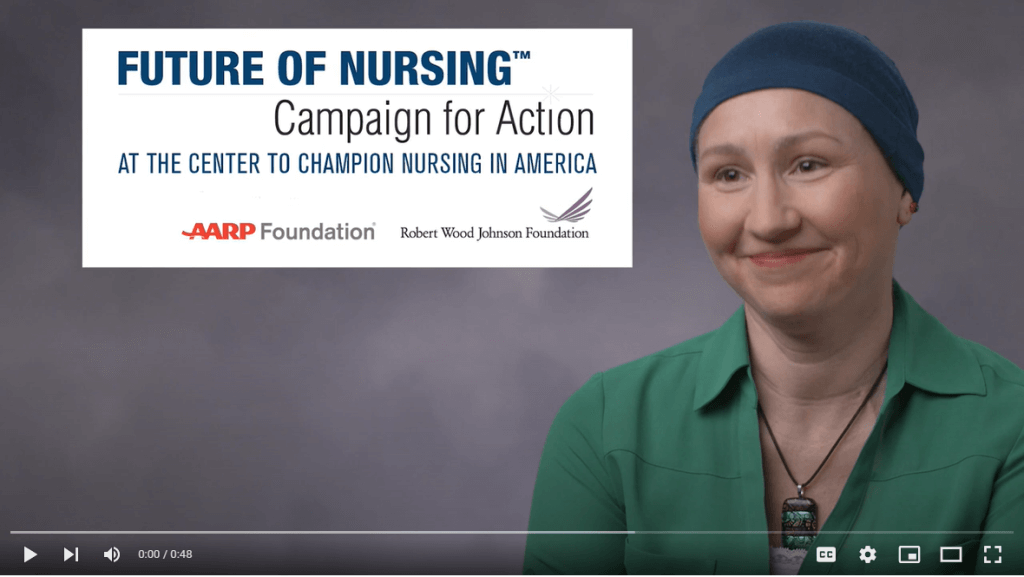 When the National Academy of Medicine released its 2021 report, The Future of Nursing 2020-2030: Charting a Path to Achieve Health Equity, the Future of Nursing: Campaign for Action, an initiative of AARP Foundation, AARP and RWJF, took up the challenge to help implement the report's goals. Among those goals is to deploy nurses and nursing to advance health equity. One of the Campaign's strategies for achieving this goal is to elevate and amplify the concept of the equity-minded nurse. Our Health Equity Senior Fellow, Kupiri "Piri" Ackerman-Barger, PhD, RN, FAAN, wrote an essay to introduce the concept.
She notes that historically, in their roles as front-line health care providers, nurses have observed the consequences of longstanding health disparities but have not seen themselves as agents with the power to change things. But, she writes:
"By adopting the concept of "equity-minded nurses" we can rewrite this script for ourselves and become central to constructing the health outcomes that align with our professional and personal values. Equity-minded nurses are those with the knowledge, skills, and desire to advance health equity. Equity-minded nurses recognize themselves as informed and capable drivers of change who are uniquely poised to inform healthcare practice, policies, research, and educational standards."
To help more nurses embrace and elevate the equity mindset – that is already inherent in the work of nursing – we asked some of the Campaign's stakeholders to share their views on what equity-minded nursing means to them. The result is nine short videos that we will share throughout the summer and fall, with each nurse talking about how he or she brings an equity mindset to their unique nursing role. 
Also as part of this effort, we are publishing a series of blog posts by nurses, for nurses, offering a remarkable range of personal and professional stories about achieving health equity through nursing.
Below we list the individuals you can hear from by clicking over to their videos.
"When we're taking care of patients, we are taking care of them holistically."
Sadie Anderson, MSN, RN
President, National Alaska Native American Indian Nurses Association, Inc
"When we think about equity-minded nursing [it is] really to think about it from birth through the entirety of a person's lifetime."
Ashley Darcy-Mahoney, PhD, NNP-BC, FAAN
RWJF senior nurse scholar and professor at The George Washington University School of Nursing
Equity-minded nursing starts "with us each individually as a nurse recognizing where we stand and where we come from, and really doing an assessment of our own, our own experiences and what we are as nurses."
Karen Drenkard, PhD, RN, NEA-BC, FAAN
Strategic Advisory Committee member, Campaign for Action
"Never underestimate what a group of concerned citizens could do to change a world." And I say to nurses, "don't underestimate what you can do in really helping these marginalized groups."
Paul Leon, RN, BSN, PHN
Senior Health Equity Fellow, Campaign for Action
"A lot of our nurses… that different lens that they're coming with is filled by passion, desire to improve the health of their families and health of their communities, but ultimately, the health of the populations that they serve."
Adrianna Nava, PhD, MPA, RN
President, National Association of Hispanic Nurses
"I think you have to be introspective and know your own values and beliefs, and your own stereotypes and prejudices and deal with those."
Barbara Nichols, MS, RN, FAAN
Equity, Diversity & Inclusion Senior Advisor, Campaign for Action
"Health equity is inclusive and inclusiveness is everyone being at the table."
Blake Smith, MSN, RN
Immediate past president, American Association of Men in Nursing
"I can take the time to understand, to read, to watch, to understand the lived experience of others."
Beth Toner, RN, MSN, MJ
Director, program communications, the Robert Wood Johnson Foundation
Being "open-minded is so important, do not make assumptions."
Jing Wang, PhD, MPH, RN, FAAN
President, Asian American/Pacific Islander Nurses Association, Inc