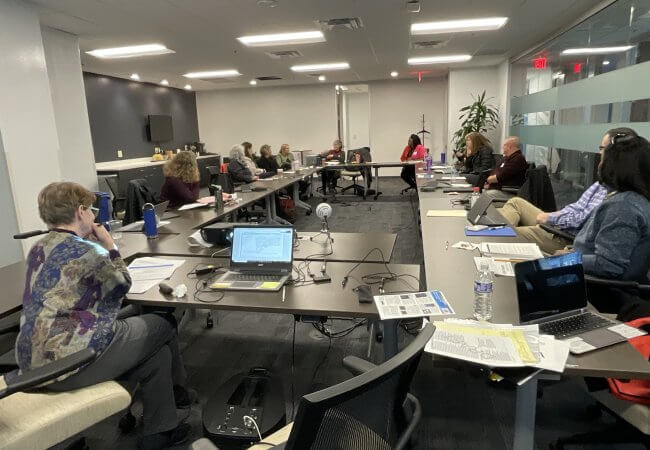 NC FONAC Hosts Retreat to Advance Health Equity in North Carolina
The North Carolina Future of Nursing Action Coalition (NC FONAC) marked their first in-person retreat and planning session since the onset of the COVID-19 pandemic, convening at the AARP North Carolina headquarters in Raleigh, North Carolina, on Saturday, February 4, 2023.
In planning for the meeting, the Coalition prioritized discussion of three recommendations included in the Future of Nursing 2020-2030: Charting a Path to Achieve Health Equity. Retreat participants focused on Recommendation 1: Creating a Shared Agenda; Recommendation 2: Supporting Nurses to Advance Health Equity; and Recommendation 4: Capitalizing on Nurses' Potential.
Breakout sessions provided participants with the opportunity to discuss each recommendation with a goal of shaping the Coalition's work to advance these areas for the benefit of residents of North Carolina.
"Our conversation was stimulating and strategic," said Valerie Howard, EdD, RN, ANEF, FAAN,co-leader of the Coalition and dean of UNC School of Nursing. "We discussed how we might lead and encourage others in our Coalition—and beyond—to take action to advance health equity in North Carolina."
Howard co-convened the retreat with NC FONAC co-leader Catherine Sevier, State President Emerita of the NC AARP.
"It's encouraging to me to see the Coalition's commitment as we continue to advance the nursing profession by advocating for our patients, the community, and each other," said Sevier.
NC FONAC, founded over ten years ago, is comprised of nursing and community leaders from public and private organizations including universities in the UNC system, private universities in North Carolina, community colleges, hospital and health care systems, AARP NC, and other organizations committed to the health and well-being of North Carolina residents. The Coalition is committed to improving the health and health outcomes of populations across North Carolina.
AARP generously hosted the retreat.