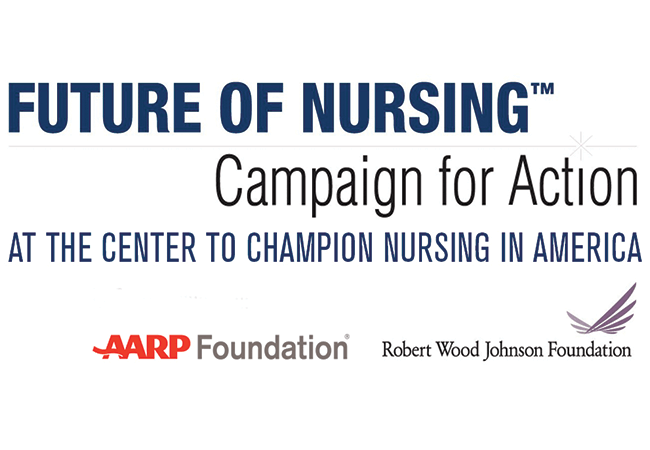 Campaign Moving Forward to Build Health Equity Through Nursing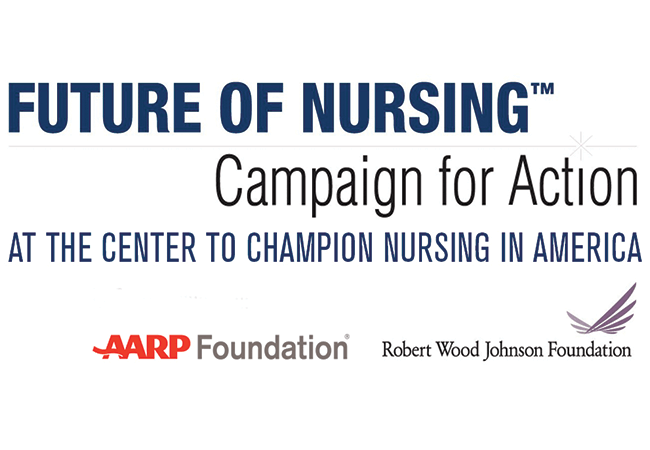 The Future of Nursing: Campaign for Action is pleased to announce that it will implement a new three-year grant from the Robert Wood Johnson Foundation (RWJF) to continue its work disrupting structural barriers to health equity by tapping the full potential of a diverse nursing work force and increasing access to care. The Campaign, a national initiative of AARP Foundation, AARP and RWJF, is run by the Center to Champion Nursing in America (CCNA), an initiative of the same organizations. CCNA is led by Susan Reinhard, PhD, RN, FAAN, senior vice president and director of AARP Public Policy Institute and chief strategist of CCNA and the Institute's family caregiving initiatives.
"We could not be more excited to continue the Campaign's critical work of building a healthier America through nursing," said Reinhard. "We plan great strides in achieving health equity in the U.S. built on strengthened nursing capacity and expertise."
The $3.8 million grant is part of an 18-year RWJF investment in CCNA, which was established in 2007 with the goal of ensuring all Americans have access to a highly skilled nurse when and where they need one.
In 2010, the Robert Wood Johnson Foundation, the country's largest philanthropy devoted to health and health equity, joined AARP Foundation and AARP, the nation's largest nonprofit, nonpartisan organization dedicated to empowering people to choose how they live as they age, to found the Campaign for Action. CCNA would coordinate the Campaign, guided by a 2010 report by the Institute of Medicine, the Future of Nursing: Leading Change, Advancing Health.
Twelve years later, RWJF turned to the same partnership, this time to implement what is known as the second future of nursing report, released in 2021 by the National Academy of Medicine, with a focus on nurses leading in advancing health equity and disrupting structural racism.
"We believe this three-year investment in the Campaign for Action is the natural next step in ensuring that the important recommendations in The Future of Nursing 2020-2030: Charting a Path to Achieve Health Equity are moved forward," said Don Schwarz, senior vice president of program at the Robert Wood Johnson Foundation, "and implementing those recommendations will ensure nurses have the tools they need to heal and to advance health equity for everyone."
AARP Foundation has been a partner in the work since the beginning.
"AARP Foundation is proud to be on this extraordinary journey with the Robert Wood Johnson Foundation, AARP and the Center to Champion Nursing in America/Campaign for Action to advance health equity and well-being through nursing so everyone can live longer, healthier lives," said Emily Allen, interim president and senior vice president for programs at AARP Foundation. "With RWJF's support, we have strengthened the nursing profession, which is now better able to advance the cause of health equity in our nation. AARP Foundation shares nursing's commitment to fighting health disparities. Our mission is to create a world without senior poverty, where no older adult feels vulnerable.  We invest in and create effective solutions that help tackle the root causes of senior poverty and emphasize equitable outcomes for populations that have faced systemic discrimination."  
The Campaign plans to leverage, strengthen and engage its robust, multi-sector national network to implement the NAM's 2020-2030 recommendations. That network includes national, state and local coalitions, as well as more than 2,000 businesses, health organizations, hospital systems, insurers, private companies and non-profit organizations, as well as nurses.
Guided by a vision that everyone in America can live a healthier life, advanced by equity-minded nurses as essential and valued partners in providing care and promoting health and well-being, the Campaign's focus through May 2025 will be:
Fostering and unleashing the power of equity-minded nurses to lead and advocate for health equity and disrupt structural racism,
Increasing equitable access to care and services by nurses, and
Strengthening, growing and diversifying nursing at all levels.
Antonia M. Villarruel, PhD, RN, FAAN, professor and the Margaret Bond Simon Dean of Nursing at the University of Pennsylvania School of Nursing, is co-leader of the Campaign's Strategic Advisory Committee. She said the Campaign's work to advance health equity has never been more urgent given numerous conditions that have brought social and racial injustice and disparities to the forefront of public health. "Equity, diversity, and inclusion are essential core values of nursing and what's needed to build a healthy United States of America," Villarruel said.
Learn more about the Campaign.
Key achievements from the Campaign's first decade-plus include
Improving access to care in 13 states so that 94 million people in 26 states and the District of Columbia have direct access to nurse practitioners.

Spurring academic progression. The number of RN-to-BSN graduates grew 252 percent from 2009 to 2020, while the number of doctorally prepared nurses grew more than 300 percent from 2009 to 2019, when data is available.

Helped fill 10,000+ boards seats or decision-making bodies with nurses whose strategic influence will improve the health of communities.

The creation of a broad network—national and state coalitions that include more than 2,000 businesses, health organizations, hospital systems, insurers, private companies and non-profit organizations—and the infrastructure necessary to support it.
View the Campaign's primary Dashboard Indicators