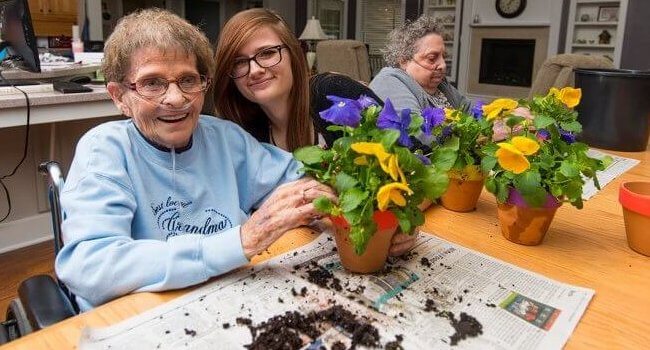 Being a Nurse in a Different Kind of Nursing Home: A New Report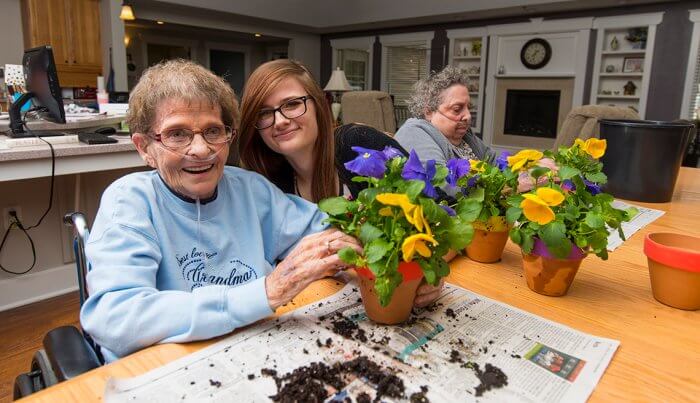 "As the nurse in the Green Houses it took me some time to get used to not being the 'charge nurse' and letting go of what I didn't need to be involved with. But once I did realize I didn't have to 'do it all,' it was wonderful, and it did give me the time to teach and mentor the Shahbaz on 'nursing things.'"
Many people are familiar with the Green House model of small nursing homes, with just ten or twelve private resident rooms, a hearth and kitchen and laundry facilities in each. The look and feel is very different from traditional nursing homes.
A new report highlights one of the other important differences between Green House homes and traditional nursing homes: the staffing model, which is unique and fundamental to Green House's philosophy and outcomes. The report touches on the role of nurses, which is so different in Green House homes, readers of this blog may want to learn more.
Unlike traditional nursing home staffing, nurses in Green House homes do not serve as supervisors. This allows nursing staff to focus on clinical care, and to serve as mentors and teachers to the direct care workers, CNAs called "Shahbazim" who are extensively trained. This relationship in turn empowers the Shahbazim to increase their skills and collaborate with the nurses. There is an ongoing collaborative/team relationship between Shahbazim and nurses, with a different role, the Green House Guide, serving as supervisor of the self-managed work team of Shahbazim.
Early in the development of the model, concerns arose over whether this kind of arrangement would compromise the quality of care for residents; however, research has confirmed this staffing structure maintains a high quality of clinical care and achieves excellent outcomes for residents. In fact, the close collaboration between the nurse and the Shahbazim may be one reason as it can result in early intervention by the nurse and other health professionals. It is worth noting that Green House homes have fared better during the pandemic, with fewer COVID-19 cases and deaths.
You can read the report from AARP's Public Policy Institute, the latest in its series on long-term services and supports, LTSS Choices, here: https://aarp.org/ppi/info-2022/ltss-choices-empowered-direct-care-worker/