2018 Named the Year of Finding Joy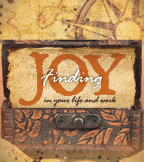 The Missouri Center for Nursing and the Missouri Action Coalition have named 2018 the year of Finding Joy.
As daily job demands increase and changes continue to happen at an unprecedented speed, it can be difficult at times to remember your purpose. The Center's Finding Joy campaign aims to help Missouri nurses rekindle their passion. Several activities are planned throughout year to engage Missouri nurses, nursing educators, and nursing leaders. To kick off the campaign, a nurse will be featured each month in the Center's newsletter and social media accounts for their compassionate care and inspiring actions. Co-workers, patients, friends, and family are encouraged to nominate exceptional nurses to be recognized for their passion.
Additionally, this year's Annual Summit, scheduled for May 31 and June 1, focuses on the Finding Joy theme. Speakers will present suggestions for and techniques to Find Joy in life and at work. Attendees will leave energized, equipped with a toolkit of resources to take home and to work to continue their learning and reference as needed.
The year will end with a virtual celebration in which nurses will come together to share how they were successful at Finding Joy throughout the year and what they can do to help carry it forward.
For more information or to honor a nurse with a nomination to be our featured recipient, please click here.