2013 Gallup Poll: Nursing is the Most Trustworthy Profession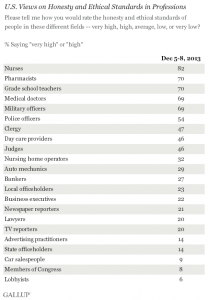 Gallup recently conducted their annual poll asking Americans which profession they believe has the highest ethical standards.
Nurses ranked as the most trustworthy, with 82 percent of American ranking their honesty and ethical standards as "high" or "very high."
Nurses have continuously been listed at the top of the survey, beating out other professions including doctors, teachers, and pharmacists.  Since 2005, over 80% of Americans have listed nursing as the most trustworthy profession.
Read more on the survey here.