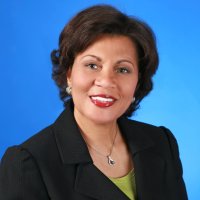 Vernell P. DeWitty, PhD, RN, FAAN
Equity, Diversity & Inclusion Senior Advisor
Vernell DeWitty is a transformational leader with a unique vision for advancing diversity, equity, and inclusion for the nursing profession. She served as the inaugural Chief Diversity, Equity, and Inclusion Officer at the American Association of Colleges of Nursing (AACN) where she advised the nation's top academic nursing leaders on building consensus around a strategic approach to diversity and inclusion. Vernell is a Equity, Diversity & Inclusion senior advisor for the Future of Nursing: Campaign for Action and she is also now the senior consultant for Diversity, Equity, and Inclusion for AACN and the CEO of Pourquois Diversity Consulting, LLC.
Her distinguished career encompasses leadership roles in nursing education, practice, and healthcare administration. She directed the Robert Wood Johnson New Careers in Nursing Scholarship Program, a nine-year $44 million national collaboration between the Robert Wood Johnson Foundation and AACN that focused on diversifying the nursing workforce. In this capacity she created and implemented strategies and resources that contributed to the academic success of underrepresented and disadvantaged students in 130 nursing schools located in 41 states and the District of Columbia. In addition, Vernell led the design and implementation of a groundbreaking technical assistance program for over four years for 32 nursing schools funded by the Health Resources and Service Administration (HRSA) to increase nursing workforce diversity.
Vernell most recently designed a training program, including the development of an expert consultative team, for nursing schools seeking to implement holistic admissions review and related strategies to increase diversity and inclusion in student populations. She has published on mentoring, academic success, and student progression as she continues to develop strategies and programs to increase the diversity and cultural competency of nursing graduates.
Vernell earned her doctorate from George Mason University, her MBA from Howard University, her MSN from The Catholic University of America, and her BSN from Dillard University. She is a fellow in the American College of Healthcare Executives and received a certificate as a Healthcare Executive in Diversity and Inclusion from the Association of American Medical Colleges. She is a graduate of the Unconscious Bias Learning Lab by Cook Ross and the Maryland Equity and Inclusion Leadership Program at the University of Maryland Shafer Policy Center.
Vernell was the recipient of the American Nurses Association 2014 Mary Mahoney Award for her significant contributions to advancing equal opportunities in nursing. She also received the President's Award from the State University of New York, Downstate for her leadership and commitment to diversity, equity, and inclusion. The National Association of Diversity Officers in Higher Education in March 2020 awarded her the Individual Diversity Award. Vernell received the MEMY award from DNPs of Color (DOC) for her unwavering passion for improving the health of vulnerable populations as reflected in her work to achieve health equity, increase access to care, and advance workforce diversity.