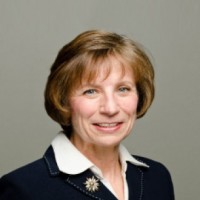 Susan B. Hassmiller, PhD, RN, FAAN
Senior Adviser for Nursing, Robert Wood Johnson Foundation and Director, Future of Nursing: Campaign for Action
Susan B. Hassmiller joined the Robert Wood Johnson Foundation in 1997 and is the RWJF senior adviser for nursing. In this role, she shapes and leads the Foundation's nursing strategies to create a higher quality of care in the United States for people, families, and communities. Drawn to the Foundation's "organizational advocacy for the less fortunate and underserved," Sue is helping assure that RWJF's commitments in nursing have a broad and lasting national impact.
In partnership with AARP, Sue directs the Foundation's Future of Nursing: Campaign for Action. This 50-state and District of Columbia effort strives to implement the recommendations of the Institute of Medicine's The Future of Nursing: Leading Change, Advancing Health report. Sue served as the report's study director. She is also serving as co-director of the Future of Nursing Scholars program, which provides scholarships, mentoring and leadership development activities, and postdoctoral research funding to build the leadership capacity of nurse educators and researchers.
Sue served with the Health Resources and Services Administration as executive director of the U.S. Public Health Service Primary Care Policy Fellowship. In this role, she addressed national and international primary care initiatives.
Sue is a member of the Institute of Medicine, a fellow in the American Academy of Nursing, and sits on other advisory committees and boards. She is the recipient of many awards and two honorary doctorates, including the Florence Nightingale Medal, the highest international honor given to a nurse by the International Committee of the Red Cross.