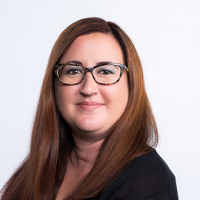 Jordan Green, MS
Senior Advisor, Outreach
Jordan Green is the senior advisor of outreach at the Center to Champion Nursing in America, an initiative of AARP Foundation, AARP, and the Robert Wood Johnson Foundation to improve America's health through nursing. She is responsible for the implementation and management of communications outreach for the Future of Nursing: Campaign for Action, a national initiative of those same organizations to transform health care through nursing and build healthier communities for everyone in America. Her responsibilities include integration and planning of outreach and communications activities, support and execution of the Campaign's social media strategy and online presence, and developing opportunities within CCNA that integrate AARP Enterprise priorities. She also provides strategic support for CCNA and Campaign speaking engagements and collaboration with new Campaign stakeholders.
Before joining CCNA, Jordan spent six years supporting the office of Strategic Initiatives with AARP's Public Policy Institute, where she managed strategic communications planning, social media strategy and implementation, and support to the Public Policy Institute's online presence. She also managed a variety of special projects, engaged with internal and external audiences, and assisted in the development of new funding streams.
Her previous experience includes managing operations and programs at the National Alliance for Caregiving, a nonprofit coalition dedicated to conducting research and developing national programs for family caregivers and the professionals who serve them. She holds a master's degree in gerontology from Towson University and a bachelor's degree in psychology from Eastern Mennonite University.