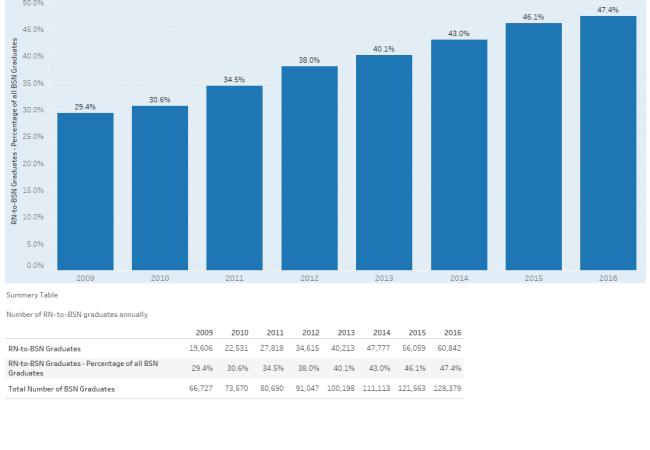 Campaign Dashboard Update Shows Continued Growth, Progress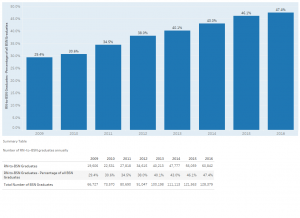 The number of RN-to-BSN program graduates has more than tripled since 2009, showing that registered nurses nationwide are heeding the call to return to school to advance their education. That's just one positive national nursing trend of many seen in the latest round of updates to the Dashboard of the Future of Nursing: Campaign for Action, an initiative of AARP Foundation, AARP, and the Robert Wood Johnson Foundation. The Dashboard is a series of measures that track Campaign progress made in implementing recommendations from the Institute of Medicine's 2010 Future of Nursing report. Updated twice yearly, these measures track changes in nursing education, scope of practice, diversity, leadership, and more.
Highlights of the newly updated primary Dashboard indicators also show:
North Dakota has joined eight other states that have removed barriers preventing nurse practitioners from practicing to the full extent of their education and training since the Campaign began in 2010.
More nurses report serving on boards.
Other trends seen in the supplemental, or secondary, Dashboard indicators show:
Growth in the number of U.S. hospitals with Magnet status.
Rising enrollment in doctorate of nursing practice (DNP) programs.
An increase in the number of nursing doctorate (DNP and PhD) graduates.
Growth in the racial and ethnic diversity of nursing doctorate graduates.
View the primary indicators covering progress in seven areas (education, doctoral degrees, state practice environment, interprofessional collaboration, leadership, workforce data, and diversity) and the secondary dashboard indicators, which further support each primary Dashboard goal.